On Thursday, June 13, 2013 is the Vienna Fashion Night, the Fashion Highlight of the year takes place for the third time: Special guest Patrick Kafka, one of the worldwide top-models in demand has been announced. Besides our Austrian Fashion star, numerous other national and international VIPs are awaited.
With an outstanding city-setting spread from Tuchlauben through Graben up to the complete Kohlmarkt-area, Vienna is presented once again this year as the shopping metropolis number one.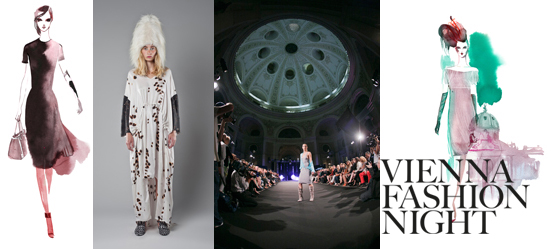 FASHION SHOW
At 10:00 P.M be prepared for a bodacious fashion show being the brilliant highlight. The historical Cupola of Michaela church in the heart of Vienna will be the "place to be" for all fashion thrilled.
Within that breathtaking setup, an extra-class fashion show will be presented to the guests. For the first time, the worldwide top designers' newest collections for women and men, innovative newcomer-brands and cult-labels will be presented in one single spectacular show:
FASHIONATION - the High End-Department of Peek & Cloppenburg –will provide
international flair with their fantastic Multi-Label-Show with It-Brands such as Pierre Balmain, Red Valentino, Matthew Williamson, Zadig&Voltaire, Karl by Karl Lagerfeld, Dondup, Paul Smith, Closed, Diesel Black Gold, Galliano, Moschino Cheap & Chic, Sonia by Sonia Rykiel and many others.
Furthermore, the Austrolabel GON of the designer Christina Steiner enchants with spectacular creations. DHL is official partner for logistics for the Vienna Fashion Night, therefore all pieces for the show will arrive extra fast in Vienna.
CHAIRITY & FASHION
For the first time, there will be a Show-Block for Charity. In the "Red Show sponsored by Coca-Cola light", specially designed cocktail dresses by Lena Hoschek will be presented.
The Initiative of Coca-Cola light for more "Heart-Awareness" among women moves into its second phase. In cooperation with the Austrian Heartfond, the Initiative ZONTA Golden Heart and the Austrian
fashion designer Lena Hoschek aim clearly:
In order to draw the attention to the topic, preventive measures and to decrease tremendously the number of cardiovascular diseases among women within the next years. In this regards, Lena Hoschek does not only create a show, but is the inventor of the hip design of the actual Coca-Cola light cans, a limited number of cans is waiting for you right in front of the entrance of the Erste Bank store at the Graben.
PROGRAMME